"I'm going to play the Calder game, Mom." Elizabeth announced as Finn was taking a nap, Paulie was working on a school project and Philip was building a lego masterpiece. With so many kids announcing things to me at any given time, I unfortunately do not catch everything that flies at me so I didn't pay her much mind until I saw the supplies she was gathering.
"What did you say, Elizabeth?"
"The Calder game. I said I'm going to play the Calder game."
"Ok, just what does that mean?"
"You'll see." came her reply.
She carefully studied the available colors in our box of modeling wax, decided on her shapes, then set to work.
"See, Mom! Now I have 5 shapes that are all different to hang from my mobile, just like
Alexander Calder
."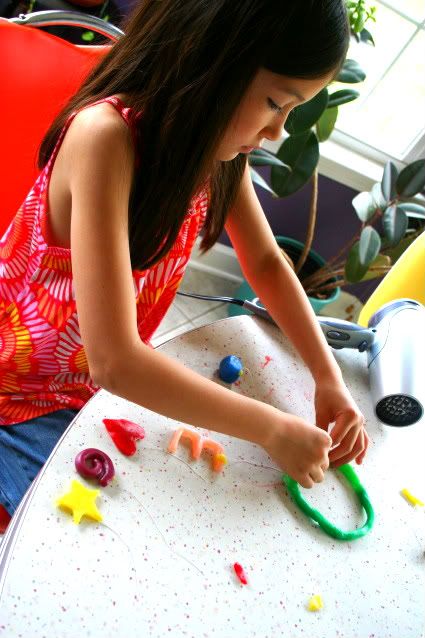 Then she wanted to hang her mobile up in the sun to see how beautiful the colors were.
Elizabeth used modeling wax and string to make her Calder mobile. We refrigerated her project for a few minutes when it was complete so it wouldn't fall apart before the wax had a chance to harden again. She learned about the Calder game from
the book
by the same name which her class has been reading at school. I love to see her education and imagination intersect in such an amazing fashion. Let the Calder games begin!
*We're having serious computer issues at the moment, ie. a failed hard drive on our less than 6 month old mac, so my posting may be more sporadic or somewhat dated for the next few days. Eek! Send healthy computer dust our way please!*