I never thought that Finn would go to kindergarten without being weaned, but I was beginning to wonder just a bit. He has been very attached to nursing from the very beginning, and if there was ever a baby who decided on his own that attachment parenting was a need rather than a parenting choice, it was Finn.
Oh, we had a few struggles in the beginning, like severe dairy and mild soy allergies that affected him through my milk, and
Hand-Foot-Mouth Disease
when he was 6 months old that made sucking painful for him. But there were so many more times when I was completely grateful for our nursing relationship, like when he contracted
rotavirus
and could only keep down breastmilk for several days, and when we traveled to the beach, the mountains, NYC, and Ireland and had warm milk on demand constantly.
As Finn turned 2 and closed in on 2 1/2, I just assumed our nursing relationship would slowly come to an end. I didn't really plan to attend the class at
The Steiner Institute
2 weeks ago, but when Paul encouraged me to go, I knew Finn might need a little bit of encouragement in the weaning department. We stopped nursing in the morning with Daddy taking Finn out to visit the birdies in the morning, then Mommy conveniently started disappearing in the evenings right around bedtime. By the time I left for MA, it had only been 4 days since Finn's last nursing session. I wasn't convinced that he wouldn't return to nursing if he was given half-a-chance, since I've been away from him twice in the past for 4 days only to resume nursing as usual on return. It took Finn 2 days after my return from MA to ask to nurse, and I simply told him that he could have water instead since we were done nursing. That, as they say, was that.
Today makes 3 weeks since the end of our nursing relationship, and I must admit that I rather enjoy just reading and singing to him at bedtime now. I thought it might be as hard for me to let go of that evening routine as it seemed to be for Finn. I think we're both finding our way to a new normal. And developing a routine with a new kind of sweetness.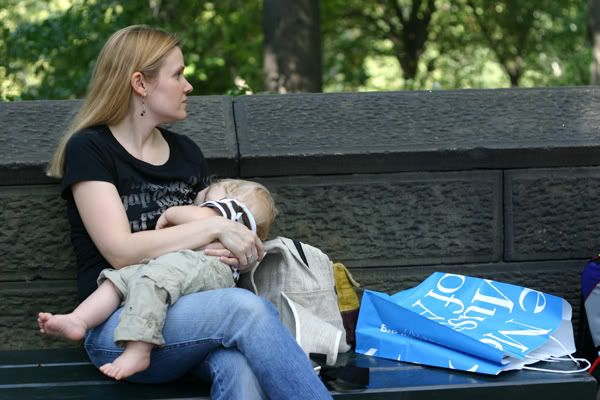 ::Central Park, NYC, 9 months::